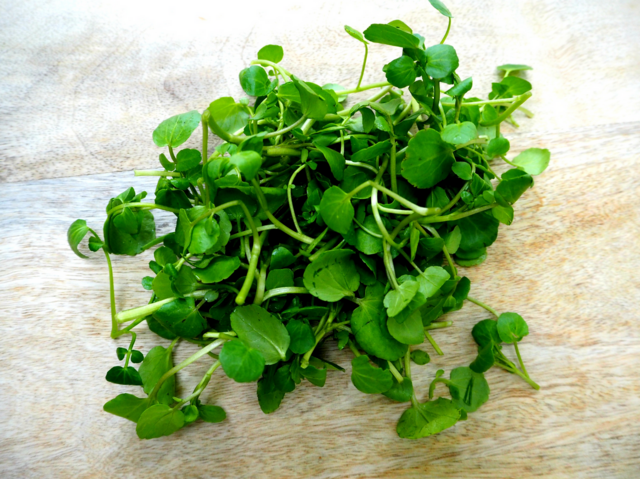 Eating watercress daily has the ability to significantly reduce DNA damage to blood cells and further to resist DNA damage caused by free radicals, according to a two-year research project at the University of Ulster.
Scientists examined a watercress-derived compound called phenylethyl isothiocyanate (PEITC) and found significant anticancer properties. Single blind, randomized, crossover trials involved 60 healthy men and women eating about 1½ cups of fresh watercress daily for eight weeks. Positive results included a reduction in blood triglyceride levels by an average of 10%, and a significant (33% to 100%) increase in lutein and betacarotene content, associated, with higher intake levels, in a lowered incidence of eye diseases such as cataracts and macular degeneration.
Scientific research found that the PEITC in watercress may suppress breast cancer cell development. Studies at the University of Southampton study found PEITC may starve tumor growth of blood and oxygen by "turning off" a signal in the body. Researchers explained that "as tumors develop, they rapidly outgrow their existing blood supply so they send out signals that make surrounding normal tissues grow new blood vessels into the tumor, which feed them oxygen and nutrients.

Watercress Fun Facts!
You could call watercress the first fast food. It was a free and therefore important source of sustenance throughout Europe and the US in the 19th century. Given the nickname "poor man's bread," bunches were often rolled into a cone and eaten as an on-the-go breakfast sandwich – much less expensive than the real thing.

A nutrient-rich perennial plant growing naturally around slow moving water sources, watercress has been known for centuries as an exceptionally nutritious herb for both eating and healing. Used in sandwiches, salads, and steamed as a side dish, it adds a tangy, peppery flavor as well as a plethora of minerals and vitamins – more than that of spinach, milk or oranges.
Vitamins A, C, and K, and phytonutrients like isothiocyanates and gluconasturtiin in watercress strengthen bones, limit neuronal damage, fight infection, help maintain healthy connective tissue, and prevent iron deficiency. Studies have found the compound PEITC in watercress may suppress breast cancer cell development and prevent DNA damage in cells.
You can find this oft-overlooked leafy green in most supermarkets, so give it a try when you make your next green salad or sandwich. Remember, watercress from stagnant water may host harmful parasites or pathogens, so rinse and soak well before eating.
Melinda Bey
Aromaoilganics
Twitter @Aromaoilganics

Google Plus: Aromaoilganics